Everything you need to know about marriage in Nigeria
8 Mar 2023
·
20 min to read
Nigeria is a culturally diverse country with various ethnic groups and tribes that perform marriage rites in different and unique ways. Over 150,000 marriages are held across Nigeria yearly, and both nationals and foreign couples are allowed to get married. In Nigeria, there are two major types of marriages: civil marriages and traditional or religious marriages. Both marriages are recognized and protected under the laws of the country. In Nigeria, traditional and religious marriages are the most popular forms of marriage, and most couples opt for them because they are able to have a legal marriage performed by a registered clergy and also perform all ceremonial rites based on their beliefs or communities.
There are at least 371 tribes in Nigeria; however, the three major ethnic groups are Yoruba, Igbo, and Hausa, which make up about 70% of the whole country's population. These tribes all have their own unique ceremonial rituals and distinct customs that separate them from each other, ranging from the attire to the procession, engagement rites, and more. The civil marriage is the cheapest form of marriage in Nigeria because there are not a lot of costs attached to it besides small registration fees.
The legal age to get married in Nigeria is 18 years, and marriages between couples that are younger than this age are prohibited by law except in special circumstances with authorization from the court. As you read on, you will learn more about the requirements to get married as well as the popular marriage traditions, laws, and costs. Let's get started.
Civil Marriage
A civil marriage is a form of marriage in Nigeria that is performed by a state-authorized officiant and takes place at the marriage registry. It is also referred to as a "statutory marriage" or "marriage under the act. This type of marriage is one that has been conducted in compliance with the Marriage Act. There are certain steps that are required of both partners in the civil marriage registration process. Couples are expected to give notice of their impending marriage to the local government that will conduct the marriage in their district. This will be submitted to the registrar of marriage along with a signed and filled-out notice of marriage.
Once the marriage has been approved, the registrar of marriages in the local government goes ahead and prints the official notice of marriage, which can be posted on notice boards as well as in newspaper publications. This is to ensure that the public is made aware of the oncoming marriage and to know if there are no impediments to the marriage. The notice of marriage is published for a minimum of 21 days. During this time, the registrar's office checked if there were any objections to the union between the two partners for one reason or another, at home and abroad. Provided that nothing objects to the marriage, the registrar goes ahead and issues a Registrar's Certificate to the couple. This certificate serves as proof that the couples can get married because there were no obstructions to their union from the published notice and that they have the free will to solemnize their marriage, which is done in the registrar's office.
The Registrar's Certificate is only valid for a period of three months. This implies that couples are to ensure the marriage ceremony is held within that period. If, in any case, two partners are unable to complete their marriage registration process during the specified timeframe, they will have to start the process all over from scratch. Upon the completion of the above steps, a marriage certificate is issued to the couple. This certificate is duly signed by them in the presence of at least two legal witnesses.
There are to be multiple copies of the marriage certificate, and one of the duplicates must be sent by the couples to the office of the registrar of marriages within a period of 7 days after the wedding ceremony has taken place. The registrar then documents the whole process and puts the file into the system so as to validate the marriage under the act. There are certain factors that are considered by the registrar's office before a registrar's certificate is approved and given to couples. These are stated below.
Factors affecting marriage registration
Both parties must be at least 18 years old and eligible for marriage. This implies that they must have given their free consent, and either one or both spouses must be in the right mental state.
One of the partners must have been a resident of the district where the marriage ceremony will take place for a minimum of 15 days before the granting of the certificate.
Both parties must not be related by blood or a direct link. There must be no impediment of kindred, affinity, or any other obstruction to marriage as stated by the law
Either of the spouses must be able to prove their single status. They must not be in a current relationship with someone other than their partner. All previous relationships must have been terminated following legal procedures.
Required Documents
There are some documents that must be presented by couples planning to get married in Nigeria. There are two main registries in Nigeria: Ikoyi, Lagos, and Wuse 2, Abuja. The documents that couples must submit in the marriage registration process are stated below:
Government-issued birth certificate or declaration of age
Passport Photographs
A stamped letter of identification of state of origin. This is a document that shows the state as well as the local government a person is from. It applies to only Nigerian nationals.
Divorce or death certificate This applies to partners who were previously married. A divorce or death certificate must be presented to show the marriage was terminated legally in the case of separation or the death of a spouse, respectively.
Evidence of a single-status
Residence permit. This applies to foreigners getting married in Nigeria only. This document must show that they have been living in Nigeria for some time (usually with their partner) before making marriage arrangements.
Religious and traditional marriage
This type of marriage is the most popular among Nigerian couples. A religious or traditional marriage is either held in a place of worship, such as a church or mosque, or according to the traditions of the couples based on their beliefs as well as their region or community. A traditional marriage is performed in accordance with the customs and traditions of the bride's and groom's families. Most couples perform a religious ceremony first and then a traditional marriage ceremony after, usually on the same day.
A religious marriage ceremony is conducted by an authorized or registered clergy member, and it is held in the place of worship of either or both couples. Most religious ceremonies are held in the morning, and the couples often exchange vows by professing their love and how much they mean to each other. Couples may prepare their own bows or use the ones provided by their religious body. After the exchange of vows, the clergyman (priest or imam) then asks if there is anyone who objects to the union between both partners. If no one objects, the couple exchanges rings and is pronounced husband and wife.
The wedding reception is usually the second part of the ceremony. Members of the church or mosque are invited to another venue where the couples, as well as their families, will be celebrated. At the reception, various ceremonial rites are performed, and the best man and maid of honor often make a toast to the newlyweds. Guests also wished the newlyweds a happy married life, with people dancing, eating, drinking, and having a good time.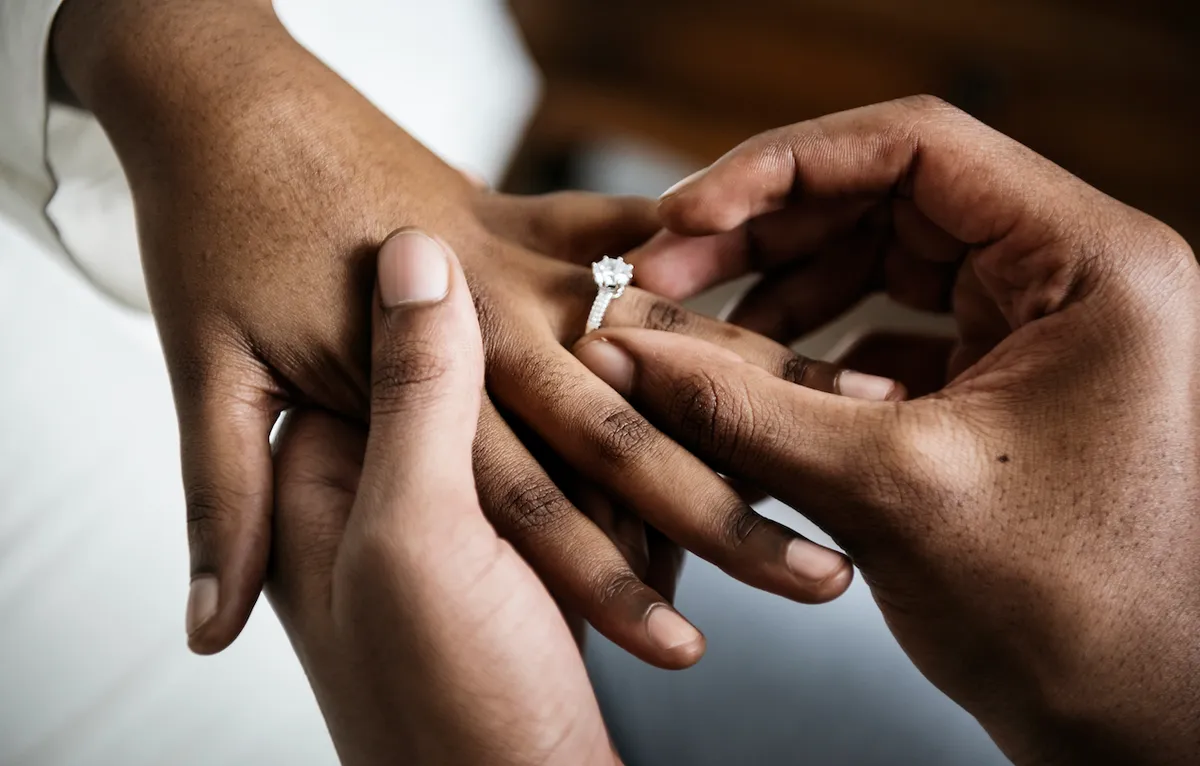 Marriage traditions in Nigeria
Nigeria has various marriage ceremonial rites that are performed during the pre-wedding, wedding, and post-wedding phases. Some of these traditions are stated below:
Engagement
This is a pre-wedding ceremonial rite where the groom and members of the family go to the bride's house to officially ask for her hand in marriage from her parents. It is customary for the groom to go with different gift items and present them to the parents of the bride. If the parents are satisfied with everything, they offer their blessings to the couple, and both families begin marriage preparations.
Dowry
This is a popular custom in Nigerian marriages. The dowry is a list of certain items that are drawn up by the bride's family and must be provided by the groom and his family before the marriage is allowed to take place. Depending on the tribe, dowries often vary. Some tribes request little from the groom and his family, while other tribes make quite a long list for the groom. The dowry must be paid in full by the groom and his family before going ahead with marriage plans and fixing a date for the wedding ceremony.
The same outfits for families
This is one of the most important traditions in Nigerian marriage ceremonies. The couples and their family members choose different types of native attire that the wedding party as well as their guests have to wear during the wedding ceremony and reception. Both families may choose different attire for their guests, and this will help to identify different types of guests during the ceremony. Some of the popular fabrics used include lace and ankara.
Double Wedding Ceremonies
It is customary for Nigerian wedding ceremonies to be in two parts. The first part is the religious ceremony, which is usually held in the morning in a religious body such as a church or mosque. After the conclusion of the first part, the couples are ushered to the venue where the second part, the wedding reception, will take place.
Wedding Reception
This is often the last ceremonial rite in marriage ceremonies in Nigeria. This post-wedding ritual is usually attended by various guests. In Nigeria, a guest list is not usually used, and most wedding receptions are open to family, friends, guests, and enthusiasts that were around the wedding venue. Here, people say different prayers, make wishes for the couples, and offer them various gift items. It is concluded with a lot of dancing and feasting.
Polygamous marriage in Nigeria
A polygamous union of marriage is not legally binding under the laws of Nigeria. A partner may not marry more than one person. However, even though this is the civil law, polygamy is still widely practiced in the country. 12 out of the 36 states in Nigeria recognize polygamous marriages. These types of marriages are regarded as equivalent to monogamous marriages. These are northern states where most of the population is Muslim and governed by Sharia law.
Same-sex Marriage
Same-sex unions or marriages are prohibited and illegal in Nigeria. In southern Nigeria, homosexuality can result in up to 14 years of imprisonment or capital punishment for men in states that are governed under Sharia law. This implies that both foreigners and nationals of the same sex cannot get married in the country or have any sort of union. For a Nigerian citizen to get married as a homosexual, it must be done in a foreign country, and such a person must have relinquished their Nigerian citizenship.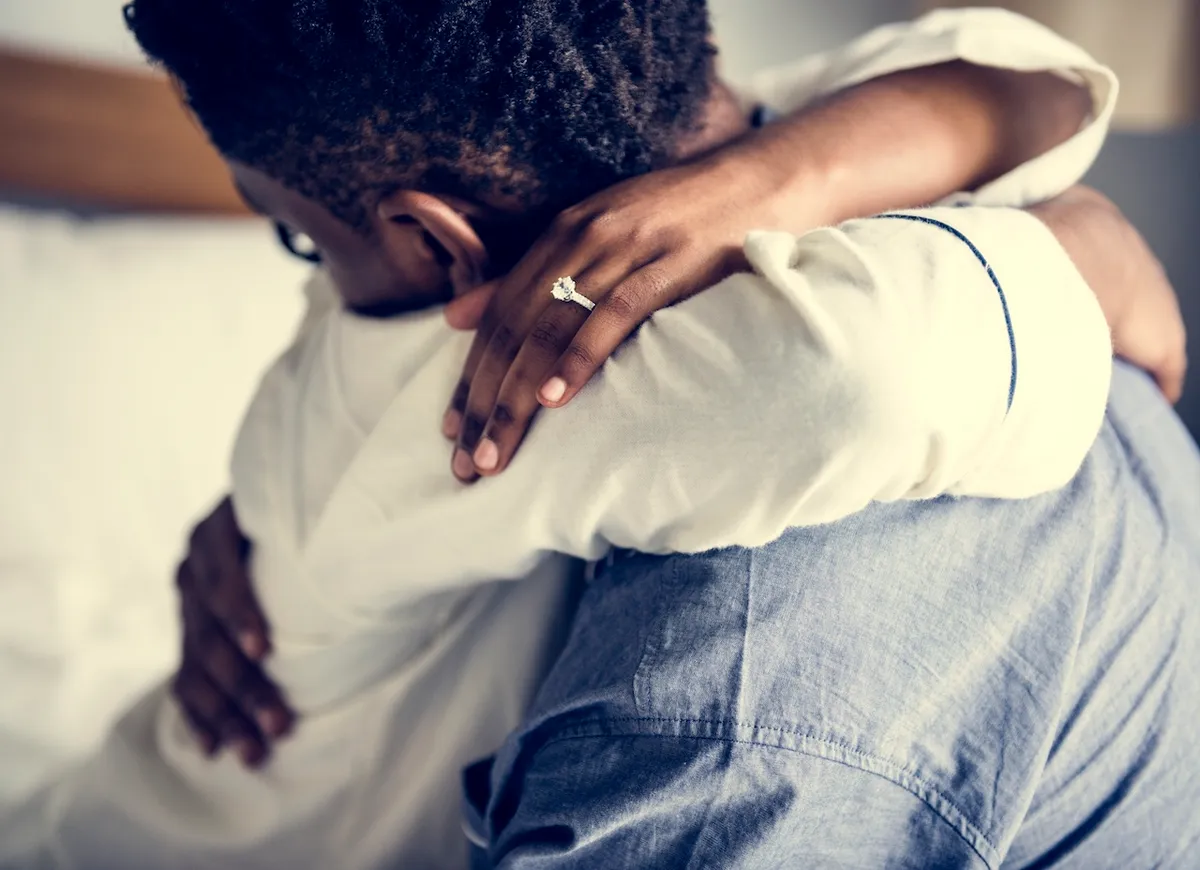 Marriage Laws and Rights, Costs and Duties
Laws and Rights
The minimum legal age to get married in Nigeria is 18 years. Marriages between underage people are prohibited under the law except in special circumstances where court authorization and parental consent are provided. Marriage ceremonies must only take place in a registered place of worship or the registrar's office, and they must be performed by an authorized minister or registrar. There is also a timeframe that has been set. The official marriage ceremony must be held between 8 a.m. and 6 p.m. in an open room.
Couples getting married are required to provide at least two witnesses during the marriage registration. A marriage between two people where either or both of them are still in a union or marriage with someone other than their partner is a crime. Such a person who commits this offense is liable to 5 years' imprisonment. This also applies to people who are unqualified but present themselves as witnesses during the marriage registration.
Both partners in a marriage are entitled to equal rights. Decisions that affect both spouses as well as the whole family at large are to be decided upon by the husband and wife. A person has the right to exit a marriage, provided that there are grounds for doing so. Some of the reasons why a marriage may be terminated include domestic violence, infidelity, mental illness, imprisonment, and forced unions. Both partners have the right to own joint accounts and properties. The husband and wife can make investments together and share the responsibility of the assets and liabilities incurred in the business.
Costs
The cost of a civil marriage in Nigeria is quite low, averaging 50,000 naira. This can be more or less expensive depending on the local government or registry where the ceremony takes place as well as the required documents that are to be submitted.
Traditional marriages in Nigeria generally cost between 1,000,000 to 3,000,000 naira in Nigeria. This includes the cost of the bride's and groom's attire, transportation, the rental of a venue, catering, decorations, and photography. However, this expense can go up a lot more when the cost of the rings comes into play, as well as the desired number of guests and other ceremonial rituals (gifts, money, etc.) involved with the marriage ceremony.
Duties
There are duties and obligations that are required of both the man and woman in a marriage. The spouses have a duty to live together in peace and harmony to observe mutual respect, love, and fidelity to each other. The husband and wife have a duty of procreation. There must be sexual cooperation in a marriage so the couple can have children. Equality is a big deal in Nigerian marriages.
The wife and husband must treat each other equally and come to mutual agreements on the responsibilities of both partners, including home maintenance and all finances. The husband is expected to protect his family and provide the basic necessities for his wife as well as their other children. Also, the wife is expected to take care of her husband and children and love them while keeping the household running smoothly.
Conclusion
Nigeria has a rich culture and heritage, and people handle marriage with a huge level of importance. Most of the population of the country is either Christian or Muslim, which makes churches and mosques the most popular places where marriage ceremonies are held. Unlike most other countries where you must do a civil marriage before proceeding with a religious or traditional ceremony, both types of marriages are recognized by law in Nigeria.
The country's civil law states that a person is not allowed to have more than one partner, but these laws are not strict for all citizens. Polygamy is widely practiced in the United States under Sharia Law, where a man is able to take up to four wives or more. We hope this article has helped you understand everything you need to know about marriage in Nigeria.
Don't make your lover wait. We're sure it will be «Yes».
Proposal will take a few clicks