Everything you need to know about marriage in Switzerland
27 Feb 2023
·
19 min to read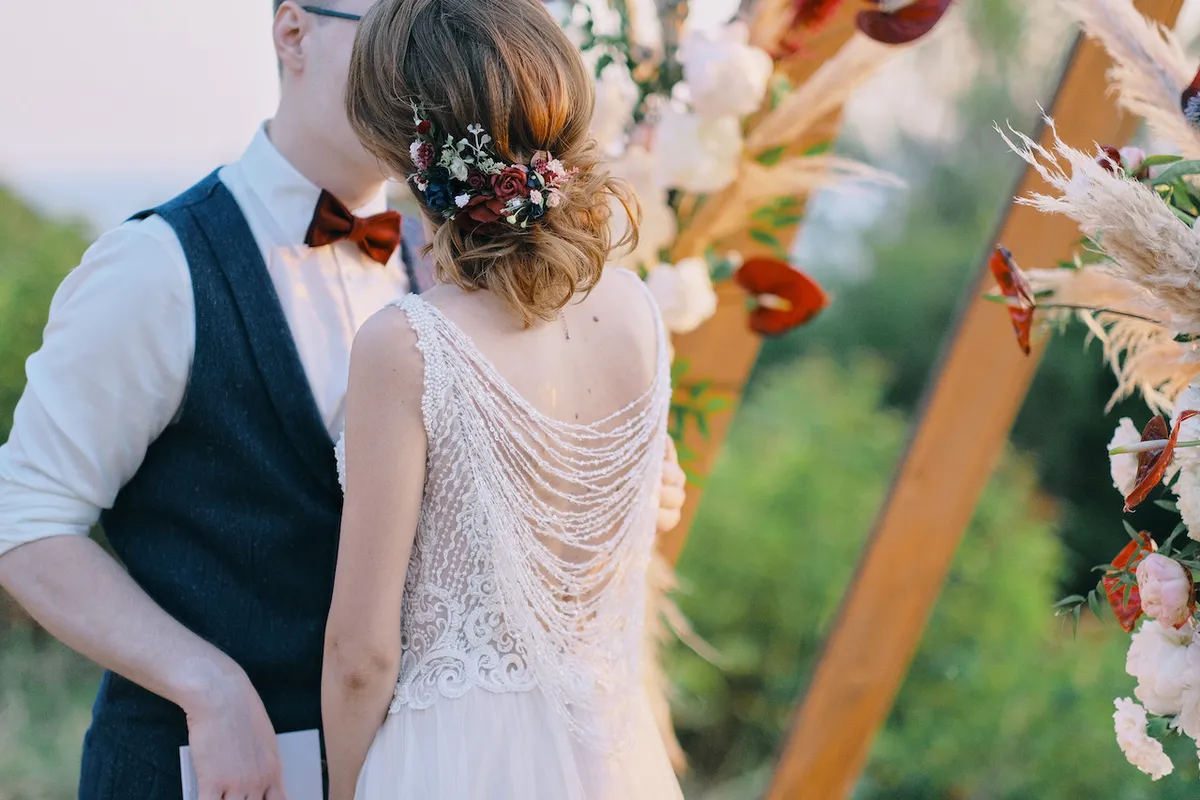 Switzerland is a Central European country with over 8 million residents, and about 40,000 marriages are held annually. There are primarily two types of marriage ceremonies held in Switzerland, namely civil and religious marriage ceremonies. The civil union is the only type of marriage recognized and protected under Swiss law. Couples may hold religious and traditional marriages before or after the civil ceremony is done.
A civil marriage in Switzerland is conducted by a civil registrar, and the country has many beautiful areas and venues for wedding ceremonies, which makes it a popular choice for destination weddings. The country is graced with amazing architecture, beautiful towns, and picturesque landscapes. The legal age to marry in the country is 18 years old, and there are certain conditions and documents that must be submitted by couples planning to get married in the country.
This applies to both nationals and foreigners in the country. Some of the marriage customs and traditions in the country are similar to those of western countries, but there are still several that are unique. Same-sex marriage is legal and holds the same rights and responsibilities as opposite-sex marriages. Let's go straight to the rest of the article, which covers other important things to know about marriage in Switzerland.
Civil marriages
The law only recognizes civil marriage in Switzerland. Couples are allowed to hold other forms of marriage, but only a civil marriage is legally binding. Religious and traditional marriages are usually held after a civil ceremony has taken place. For a civil marriage to take place, both spouses must be at least 18 years old and they must be eligible for marriage. This implies that they must not be in a current marriage, and for foreign citizens, they must also be allowed to marry under the law of their home country. Below are some of the conditions that must be met by couples before they are allowed to get married in Switzerland.
Conditions for Switzerland Marriages
There are some legal requirements for citizens who want to get married in Switzerland. These are stated below.
The two partners must be at least 18 years old, and they must consent to the marriage. Marriages of minors are not legal in the country unless there is parental consent and authorization from the court.
If the couples are not citizens of Switzerland, they must be current lawful residents who have been living in the country for some time before and during the time of marriage.
Under some circumstances, two people of the opposite or the same sex are not allowed to get married in Switzerland. You cannot marry someone you are related to. Couples are not allowed to marry family members or close relatives. Also, if a partner is still in another relationship, at home or abroad, they are not allowed to lawfully get married in Switzerland. If a person was married to a partner and got a divorce or their partner died, a divorce or death certificate must be presented before they can enter another marriage. Also, foreigners that try to get married to a Swiss national in order to just obtain residency status or other benefits are not allowed to get married, and if it is discovered that this was the purpose of the marriage, it is a punishable offense under the law.
Required documents
At the civil registrar's office, there is some paperwork that is required of both partners getting married. The man and woman must prove their civil statuses by declaring that they are not currently in a relationship or marriage with another person. They must have a document to show they are not in a civil partnership and have never been married or are no longer in a marriage.
Both partners will have to provide a valid means of identification, a birth certificate, and other documents that can prove one's marital status, which must be less than six months old. All these documents must be original copies obtained from authorities in the home country if the spouses are foreigners or from the authorities in Switzerland. Any documents that are not in German, French, or Italian must be fully notarized and translated before their submission. The documents that are required from spouses getting married in Switzerland are listed below:
A valid passport
An original birth certificate
Proof of Swiss nationality or residency
Proof of marital status This includes death and divorce certificates. An affidavit or similar documents must be provided to show that foreign partners are allowed to marry in their home country.
The processing of the marriage application takes up to 5 weeks. One of the reasons it takes that long is because banns must be published, which serves as a document to declare the couple's intention to marry to the public. This is usually done to make sure no one objects to the marriage while stating there is an impediment to it, such as a current relationship.
Upon the approval of the couple's marriage application, the official ceremony has to take place within a period of 10 days to 3 months from the declaration. Like it was stated earlier, all documents have to be notarized and translated into any of the three languages: French, German, or Italian, and the couples are expected to provide two witnesses during the ceremony.
Same-sex marriages
The union between two people of the same sex is legal in Switzerland. As a matter of fact, it just became legal in 2022, and this type of relationship includes most of the rights and benefits of marriage in the country. Some of the rights enjoyed by same-sex marriage include social security, next of kin status, insurance, a shared place of residence, and taxation. There are some rights that same-sex couples are not entitled to, such as the right to the joint adoption of children or access to fertility treatments.
Popular Marriage Traditions in Switzerland
Some of the marriage customs and traditions that are practiced by couples in Switzerland are stated below.
Groom and bridal shower
This tradition is usually held the day before the wedding. The bride and groom host a wedding shower in the presence of their families and friends in celebration of their last night as an unmarried couple. This tradition is extended to the breaking of porcelain, as there is an old belief that this act will bring the couple luck.
Wedding ceremony
This is held according to the religious beliefs of the couples. For Christian ceremonies, a church ceremony is held in the morning and runs until noon, when the reception begins in another venue. Couples also usually hold a small dinner gathering for friends and family later in the evening. Couples decide the kind of ceremony they want to have, as some may prefer going big by hosting a lavish and extravagant dinner in a restaurant or venue of their choice.
Wedding ring
This tradition involves the exchange of rings, just as it is done in western countries. The ring used in wedding ceremonies is usually gold, although some couples may have diamond stones in it. This is used to represent the extent the groom had to go to get his wife-to-be a beautiful ring because of how much he cherishes her. Just like popular western traditions, the bride also follows traditions like getting something blue, something new, something old, and something borrowed.
Fun and Games
This ceremonial rite is unique to Swiss marriages and is not common in other countries in the world. This tradition takes place between the apéritif and dinner ceremonies. Fun and games are usually organized by the maid of honor and/or the best man with other attending guests. Different games are played, such as guesses, dances, poetry, etc. The purpose is to have a lot of fun. The couples are celebrated by their friends and all the guests with jokes and games.
Bride-napping
This tradition is quite common in European countries, and it involves actually kidnapping the bride. This is organized and done by the maid of honor and other close friends of the bride. Here, she is kidnapped during the pre-wedding phase of the marriage traditions, and the groom has to find her by solving a set of puzzles provided to him by them. The bride may be taken to a bar, where they order different drinks and continue to take shots until she is found by her husband-to-be. This tradition is usually quite fun for both partners and can last several hours.
The couples may also be involved in the sawing of a log. A log is usually cut down from a tree, and the couples are then presented with a blunt saw that they must use together to cut the log. Here, the couples usually stand on the opposite ends of the log, holding the saw together, and try to find balance and rhythm by cutting the saw together. This is used to represent how well the newlyweds know each other and can work together to achieve a common goal.
Marriage Laws and Rights, Costs and Duties
Laws and Rights
Switzerland has a set of laws guiding the act of marriage, and not until these rules are fulfilled can a marriage be declared legal. Civil weddings are only recognized by the law; therefore, you have to hold a civil wedding before any other to certify your marriage as legal. Both parties must be at least 18 years of age; they should not have a link to a common ancestor; they should be able to understand the concept of marriage and give their willing consent to getting married. Both parties must be single or legally free from any previous marriage.
In the event that one or both parties are not Swiss nationals, one or both of them must have legal permanent residence in Switzerland at the time of the wedding.
Let it be known that even after you get married to a Swiss national, you don't automatically become naturalized.
For foreigners in Switzerland, proof of identity and residence documents would be submitted to the local civil registry office. You would be required to file an intent of marriage so that a banner may be put up at the civil registry informing the public of the celebration, so anyone against the marriage can reach the registrar before the wedding date. A visa may be required from foreigners depending on their country of origin. After submitting all necessary documents and receiving permission, you have from 10 days to 3 months to celebrate your wedding at the civil registry.
In summary, a proof of Swiss nationality (birth certificate, passport, certificate of divorce or death) and an affidavit from your home country attesting to the fact that you are capable of marriage must be submitted to the office of the civil registry. At the wedding, two witnesses who are 18 years of age or older must be present at the event, which must be held at the civil registry. A marriage license would be presented to you after the wedding; this is an official document recognized by the government as proof that your marriage is legal. Foreigners who don't have a legal residence permit and are seeking asylum cannot marry in Switzerland.
As easy as Switzerland's laws are concerning marriage, a number of rights come with this privilege. Both parties have equal rights following marriage in Switzerland, and in the event of the death of one of the partners, they both have access to a lifelong widowhood pension. Both parties have the right to pay one joint tax since the household is considered one. You have the right to make decisions when it comes to medical emergencies. Apparently, when a debt is incurred, both parties are expected to pay it, irrespective of who incurred the debt, and they have the right to keep their surnames or share one. Finally, if both parties tend not to get along, they both have the right to divorce.
Costs
The average cost of a civil Swiss wedding ranges from $300 to $400. But the estimated cost of a religious, traditional, or symbolic wedding largely depends on the financial capacity of the couple and their families. Some of the major expenses in these ceremonies include music, decorations, photography, catering, the renting of a venue, the wedding rings, and other pre-wedding ceremonial rites. All of these expenses can add up to more than $30,000. A lot of times, couples come to an agreement on the type of wedding they want to have as well as the number of guests they will be inviting so as to help them plan their expenses.
Couples who prefer destination weddings and may also want to go on honeymoon may even end up spending more on the marriage. Again, they will have to spend on the transportation and other bills like hotels, venues, food and drinks, etc. The cost of a Swiss wedding largely depends on the preferences of the couple as well as their customs and traditions.
Duties
According to Swiss law, couples have a duty to commit totally and be loyal to each other. They are expected to act in love and not against each other.
Both parties have a duty to provide for the family; this responsibility doesn't fall on the shoulders of one of the spouses alone. Their roles when it comes to financial decisions should be jointly agreed upon. The husband and wife should ensure that the family has a conducive place of abode and every other basic amenity. The wellbeing and education of the children should be the most important duties of any couple. The children should be able to find warmth and easily approach their parents for whatever they need.
The husband and wife should support each other's opinions, and whatever role is to be taken on by either of them should be carefully discussed and agreed upon. This may include the payment of bills or the purchase of items that may affect both partners as well as other members of the family. Modern laws are widely based on equality, and both partners are meant to support each other in every way. The partners are to be truthful with each other and maintain their fidelity. Partners may decide if there will be a need for one person to support the other because they earn more. These duties are usually a mutual agreement between the married couple.
Final Thoughts
There are some Swiss cantonal constitutions that recognize the right to cohabit under law, which allows partners to live together outside marriage. This applies to both opposite-sex and same-sex couples. Couples may hold ceremonies based on their beliefs or regions and communities, but the only marriage recognized under Swiss law is one that has been registered civilly in the registrar's office.
Both nationals and foreigners are allowed to get married in the country, and during the application process, all the required documents must be submitted and all conditions for marriage must be met. Same-sex couples may have church weddings if they are Christians and the church allows it. We hope that with this article, you are now aware of everything you need to know about marriage in Switzerland.
Don't make your lover wait. We're sure it will be «Yes».
Proposal will take a few clicks