Everything you need to know about marriage in Thailand
4 Mar 2023
·
14 min to read
Articles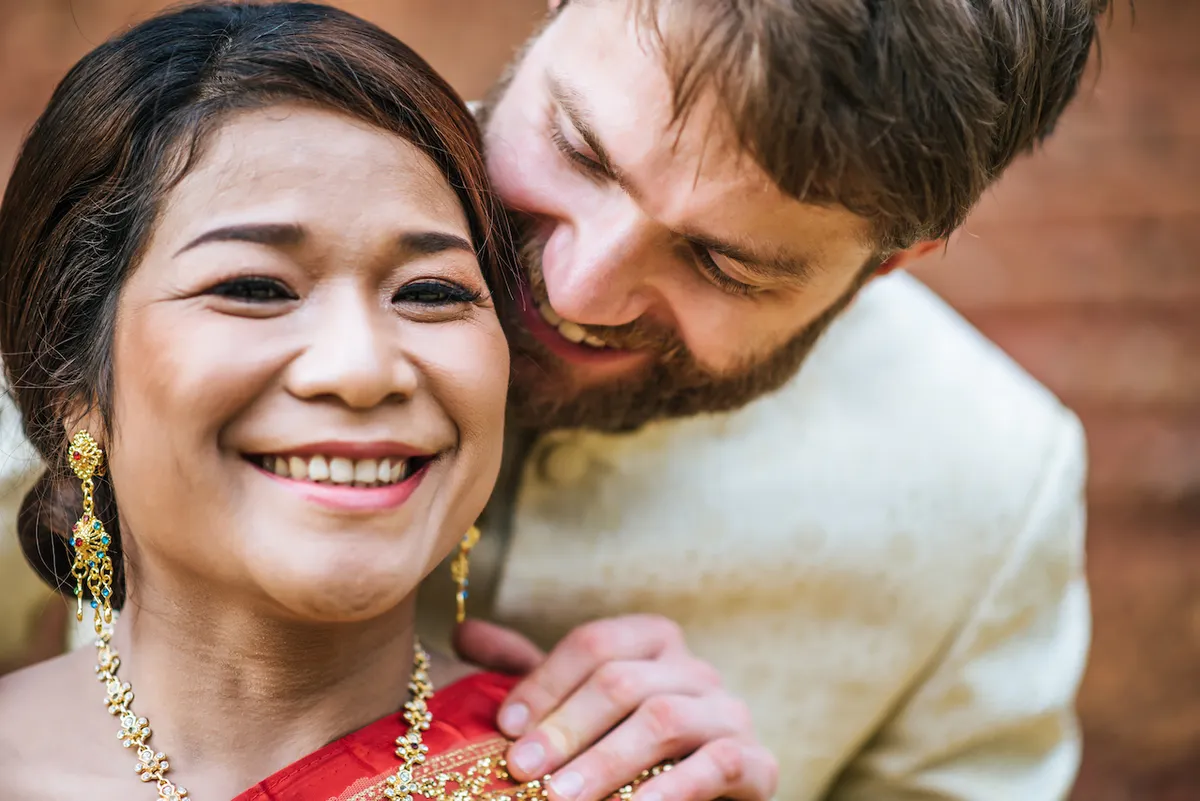 Thailand has a rich culture and heritage. Thai marriages are looked forward to by couples and the rest of their families because it is one of the most important events of their lives. Thailand is filled with various exotic locations such as historical structures, beautiful beaches, and more, which makes the country a popular choice for destination weddings. To get married in Thailand, couples have the choice of conducting either a religious ceremony or a civil ceremony.
A civil ceremony is the only type of marriage that is legally binding in Thailand. Most couples usually perform two ceremonies. The first one being the civil ceremony, and the second being the religious one. Over 90% of the citizens of Thailand practice Buddhism, and so most of the religious ceremonies held are based on the laws of the religion.
Both partners getting married in Thailand must be at least 17 years old, and foreign partners must also be permitted by their home country before the marriage ceremony may take place. Let's go straight to the types of marriages, traditions, laws, and duties of spouses in a Thai marriage.
Civil Marriage
A civil marriage conducted by an authorized officiant must be performed in court for it to be legally binding in Thailand. Both Thais and foreigners can get married in the country provided that they are eligible for marriage and are able to submit all the required paperwork. Before spouses are allowed to perform a civil ceremony, there are some qualifications or conditions that must be met. These are stated below:
Qualifications for Marriage
The two partners must be at least 17 years old and consent to their union. Foreign partners are required to show evidence that their home country allows them to get married at this age. In some special circumstances, the court may allow a person under the age of 17 to get married.
Both partners must not be related by blood or by a direct link such as a sibling or spouse. It is also not allowed to have the same adoptive parents. If a marriage is held under these conditions, it is rendered null and invalid.
Both partners must be mentally fit and have the legal capacity to have a marriage ceremony
Either of the spouses is not allowed to marry their partner while they are still in a relationship with someone else.
Documents required for Thailand marriages
The documents that are required of both spouses to be presented during the marriage registration are stated below:
A valid means of identification
Both partners must come along with witnesses.
The house registration certificate of both partners'
Divorce or death certificate This is for a partner who was previously married. They must present the document to show they are no longer in a relationship with their former partner.
Foreign spouses may be required to provide additional documents, such as a court-sworn affidavit stating that they are currently single and are not tied to any other person in a relationship or marriage. Also, documents in foreign languages must be translated to Thai by an authorized Foreign Ministry Translator.
Religious Marriage
Thais are big on celebrating marriages, and most couples often perform a religious or traditional marriage after the civil registration is concluded. Buddhism is the most common religion in Thailand, and the majority of the religious ceremonies are based on the beliefs and traditions of the religion.
Before conducting a religious marriage, couples must first perform a civil ceremony. After the religious ceremony comes to an end in the couple's place of worship, a wedding reception is usually held to celebrate the newlyweds.
Polygamy and Same-sex Marriages
Polygamy is not recognized in the country; however, it is popular knowledge that there are still several people who practice this form of marriage in the country.
Thailand's legislation has been taking same-sex marriage step by step. Although same-sex marriages are not fully legalized in the country, a person is allowed to be in a sexual or romantic relationship with another person of the same sex.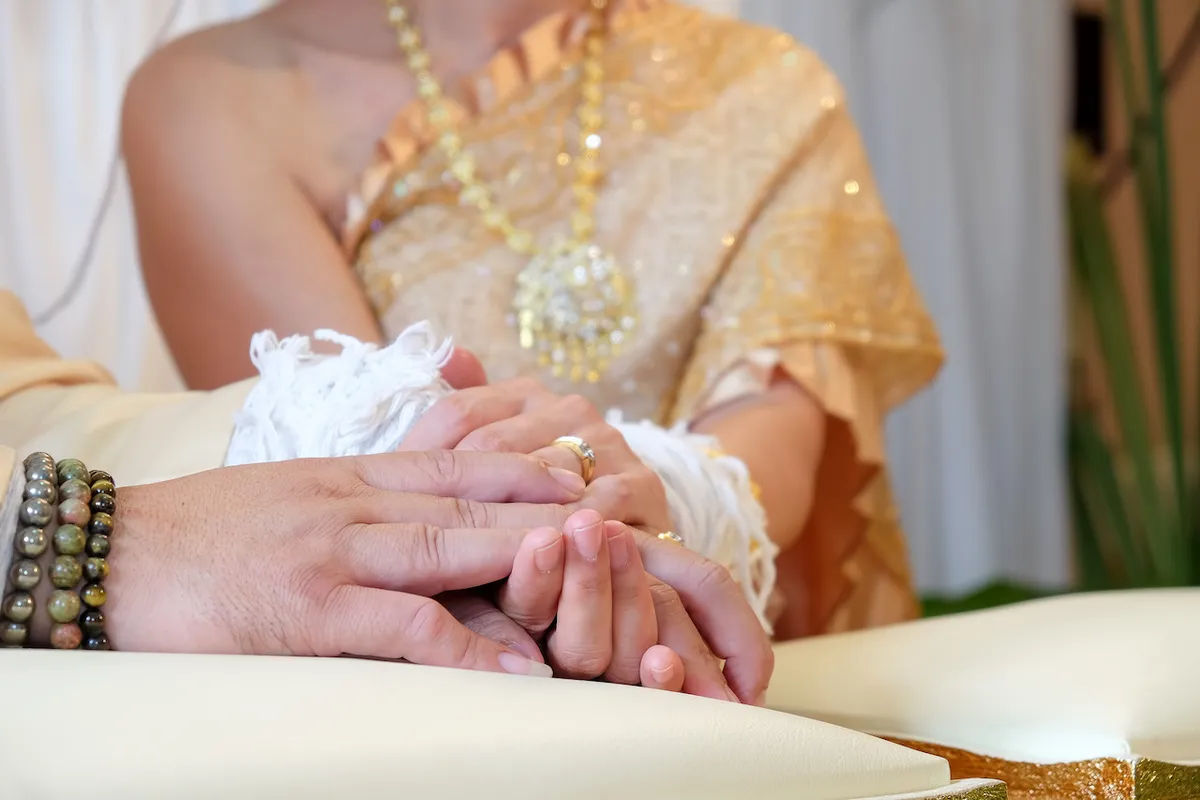 Marriage Traditions in Thailand
Thailand has a very rich culture, and the majority of marriages have certain customs and traditions that are followed by the couples as well as their families and members of the wedding party. Some of these traditions are stated below.
Khan Maak
The Khan Maak is the name given to the processional that is held at the beginning of the engagement ceremony. This custom used to be very popular in ancient Thai weddings. The groom leads a Khan Maak parade to the house of his bride, where he will officially ask for her hand in marriage and present various gifts to the bride's family.
Engagement
An engagement ceremony is held between the two families in this marriage. During this ceremonial rite, members of both families get to meet each other and exchange pleasantries, which is a way of welcoming the bride and groom to both families. The couple receives prayers from their parents on both family sides.
Water Blessing
This is one of the most important rituals in a Thai ceremony. Water is regarded as a powerful symbol of blessing in Thailand. To perform this rite, the two couples sit side by side with their hands joined together by the Sai Monkhon white thread. Guests then line up and use a shell taken from the sea to pour water over their hands as a way of uniting them while saying prayers and wishing them a happy married life.
Wedding Reception
This is a wedding tradition that is looked forward to by the couple, family, and friends, as well as various guests. Unlike most receptions, where the focus is on feasting and dancing, Thai celebrations involve a lot of photography. Guests and members of the wedding party take different pictures with the bride and groom, as they usually serve as happy memories for everyone in the ceremony.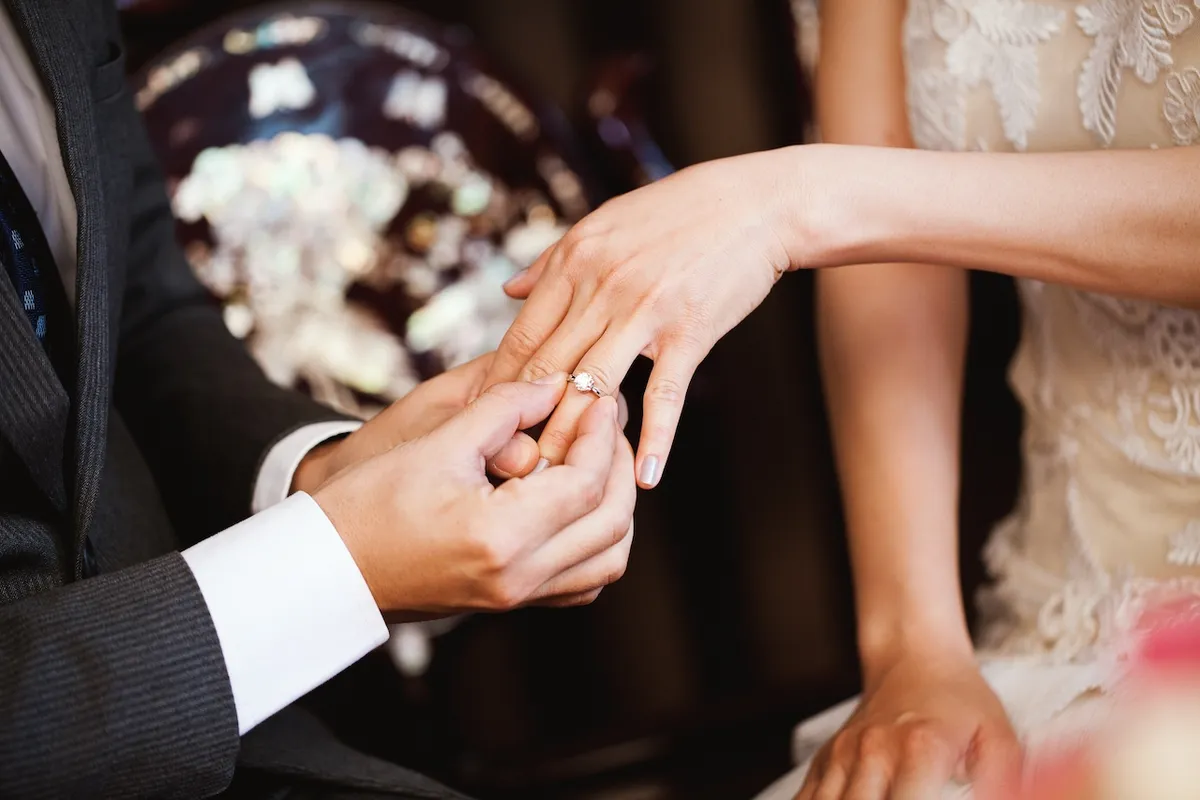 Marriage Laws and Rights, Costs and Duties
Laws
Under Thailand's marriage and family laws, intending couples are expected to be at least 17 years of age before getting married, but minors can be allowed to get married upon a court ruling. If one of the spouses is not in the right frame of mind, marriage cannot take place because couples are expected to have a stable mind to be able to give their willful consent. Incestuous marriage is not accepted in Thailand; couples must not be related by a direct alliance or relationship. Polygamy, or polyandry, is prohibited by Thai law. If the woman has been previously married but the marriage has been terminated or she is a widow, the marriage cannot hold until after 310 days have elapsed since the termination of her marriage. However, she might be able to marry if there's proof that she's not pregnant, there's a child from the previous marriage, or if there's a court ruling.
An agreement to take each other as husband and wife, which must be done and declared publicly in front of the registrar before a marriage can take place, You would be obligated to submit a number of documents to verify your and your spouse's identities, such as identity cards of both parties, certificates of house registration from both parties, proof of divorce or a death certificate if one of the parties has been previously married, and finally, you would need to be accompanied by 2 witnesses.
The requirements for foreigners entail an arrival card along with a copy of their passport, and an affidavit from their respective embassies concerning their marital status must be submitted with translated copies certified by Thai law. Only a civil wedding is recognized as legally binding.
Rights
Thailand law makes provision for inalienable rights for both the husband and wife. Upon marriage, both parties are entitled to various rights, such as the right to manage his or her private property, but marital common property should be managed by the husband upon mutual consent from the wife. The wife must change her surname to her husband's family name. The husband and wife have the right to cohabit under the same roof, but if living together is causing problems for one of the spouses, he or she has the right to move out of the house. They both have the right to file for divorce on the grounds of mistaken identity, fraud, or marriage under duress. Parents have the right to determine the children's place of residence until they're legally able to stay on their own.
Costs
Unlike many countries in the world, it is relatively cheap to get married in Thailand. A civil wedding costs about 4 baht, which is literally less than 1 dollar. Thailand wedding celebrations are estimated to cost between $1,500 and $2,500, and this covers everything from your paper work to your honeymoon. The hotels and resorts often offer wedding packages, which take off most of the stress of planning a wedding. In essence, Thailand is a perfect location for destination weddings and guarantees amazing value for money spent.
Duties
Family is the major duty of any newly married Thai couple. The Thai culture is largely based on familial foundations, and it is the duty of the husband and wife to maintain strong ties with their family. The Thai family is structured to be patriarchal, but that doesn't make the influence of the mother in the household any less effective. The couple is expected to provide basic needs for the development of the family unit. While the woman is tasked with motherhood, the father is meant to be the primary provider. They are obligated to raise the children in a reasonable manner. Parents should be responsible for the wellbeing and safety of their children.
In Summary
Thailand recognizes both civil ceremonies and religious or traditional wedding ceremonies. However, a civil wedding ceremony is the only one that is legally binding in the country. Over 270,000 marriages are held annually in Thailand, and the country has a lot of beautiful scenery for couples looking to get married there.
The marriage registration process in Thailand is not difficult. Compared to other countries, the processing time is quite short. After the submission of all the required documents, it usually takes about two working days to complete the check so that the marriage can be registered. This article has provided everything you need to know about getting married in Thailand.
Don't make your lover wait. We're sure it will be «Yes».
Proposal will take a few clicks