Everything you need to know about marriage in Ukraine
2 Apr 2023
·
19 min to read
Articles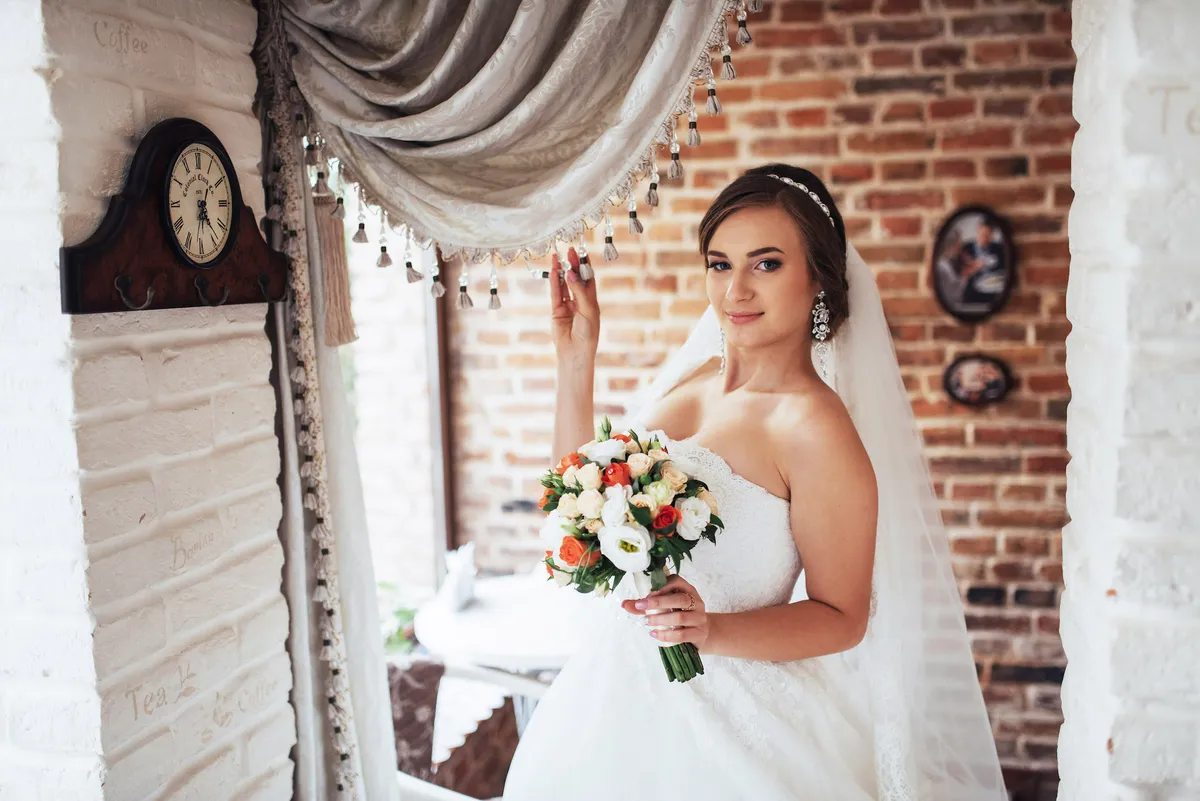 Marriage in Ukraine is quite straightforward, and both Ukrainian nationals and foreigners are able to get married in the country. About 200,000 marriages are held annually in the country. and there are various beautiful destinations for couples to get married. The marriage rate in Ukraine used to be a lot higher than it is now. As of two decades ago, the marriage rate was double what it is now, and this is largely due to the number of people getting married at an early age. Marriages between young couples are quite popular in Ukraine, and most times, couples just get married once they are of legal age. However, marrying early usually means they are young and inexperienced in everything it takes to maintain a marriage, so they are often unable to do so.
Civil and religious marriages are the most popular types of marriages in Ukraine. However, only a civil marriage is legally binding. Religious and traditional marriages are not recognized and protected under the laws of the country. Couples who want to get married according to their religious beliefs or community traditions will have to do so after a civil ceremony has been concluded.
For couples to be legally married in Ukraine, there are certain things that are required of them, and they must abide by all the marriage laws before they are permitted to enter a marriage. Before marrying in Ukraine, couples who married abroad must ensure that their marriage is legal in Ukraine, and foreign spouses must ensure that they are also legally eligible in their home country. The major aspects of marriage in Ukraine are stated below.
Civil marriage
A civil marriage is the only type of marriage that is recognized and protected under the laws of Ukraine. According to Ukrainian legislation, marriage is a free, consensual, and equal-right union between a man and a woman with the intention of starting a family, which must be registered by the state registry of civil status acts (registrar). Cohabitation between spouses is not considered marriage in Ukraine, and civil marriages are conducted by an authorized officiant. To get married in Ukraine, there are certain conditions that must be met by both partners so as to ensure that they are fit and ready for marriage. They must be of the legal marriageable age in the country, which is 18 years. Previously, the legal age for men was 18 years and 17 years for women. This was changed, and a new bill was passed that made 18 the legal age for both genders. The conditions that must be met by both couples are stated below.
Conditions for marriage
Both partners must not be in a current marriage with another person. This implies that the bride and the groom getting married must have been single prior to the marriage. Any former marriages must have been lawfully terminated.
Marriage cannot happen between siblings or close relatives. This marriage condition implies that people who are related by blood, such as through a direct link or affinity, are not permitted to get married in the country.
Both partners must be at least 18 years old. This was explained earlier. The bride and groom must have reached the minimum legal age of marriage, and any spouse who is under 18 and wants to get married must provide parental or guardian consent before they are permitted to do so.
Documents required from spouses
To marry in Ukraine, there are some documents that both spouses must submit during the marriage application process. Both Ukrainians getting married and foreign nationals in Ukraine must submit these documents.
Both spouses must submit valid passports. If a spouse is a foreign national, the passport must have a cross-border stamp if such a person does not have a residency in Ukraine.
Residence permit. This is to be provided if one of the partners is a resident of Ukraine.
If the registration is in Ukraine, include the address on the document. This is not always required; however, some registry offices may demand this of the couple.
Ukrainian tax identification number
Divorce or death certificate. Couples who were previously married must submit a divorce or death certificate, depending on which one applies to them in the situation of legal separation from a previous spouse or the death of a former partner.
All the documents submitted by foreign nationals must undergo some procedures. Foreigners who want to get married in Ukraine may have requested certain documents from their home country or their country's embassy or consulate in Ukraine. All documents requested must be duly notarized, apostille-certified, and translated into Ukrainian by a certified translator so as to be legal. The apostille can be a stamp of authorization from the foreign spouse's home country.
The paperwork is reviewed by the officer, and after it is signed, the spouse is given permission to choose the date of marriage as well as the marriage procedure. The spouses must provide two witnesses, and if they do not speak Ukrainian, they must have a translator with a diploma present during the course of the ceremony. A foreign citizen getting married in Ukraine will be vetted by the Migration Service of Ukraine (MSU). The MSU is a part of the Ministry of Internal Affairs of Ukraine and the Police Department, and they must approve the citizen before a marriage is allowed to take place.
The whole marriage registration process takes one month from the day of application. However, the couple may pay extra fees so that the marriage process can be sped up. The couples will receive the marriage certificate on their wedding day.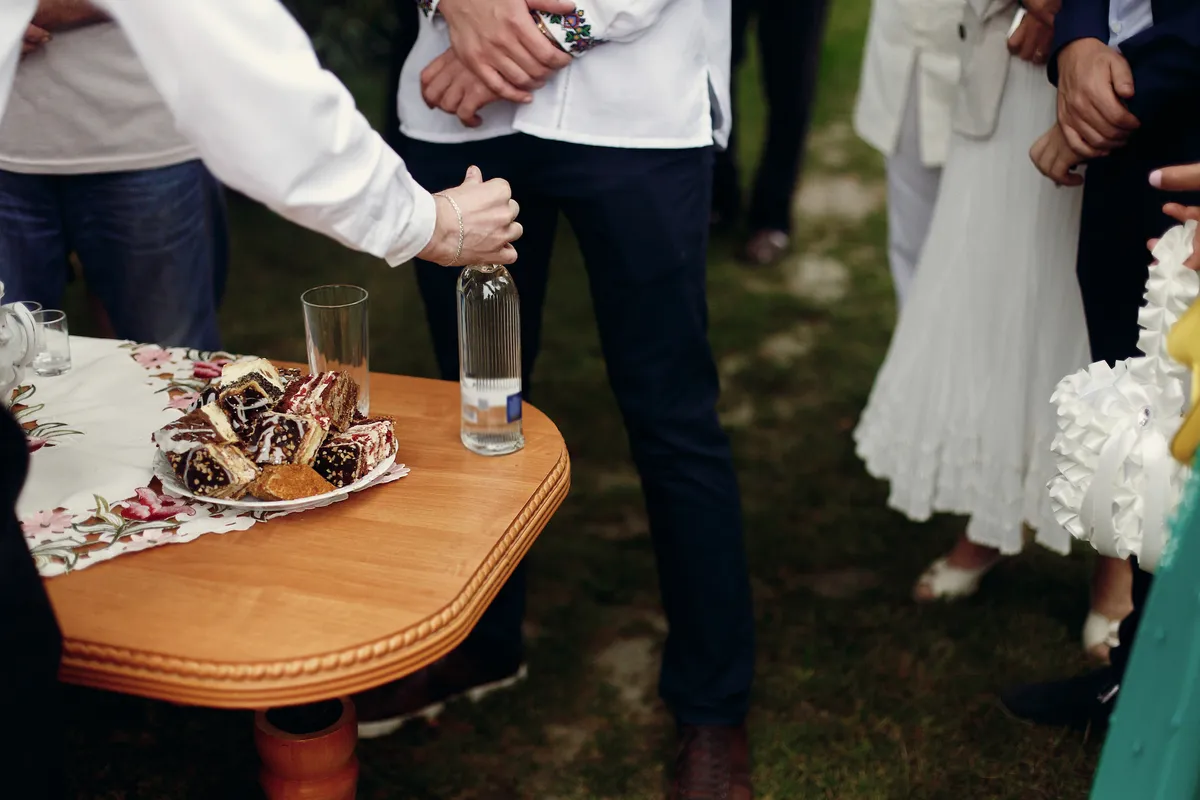 Religious marriage
Religious marriages are also popular forms of marriage in Ukraine. They are often combined with traditional marriages and held on the same day. The religious wedding may run from the morning until noon, followed by the traditional wedding later in the day, usually held in another venue. However, one must note that a civil marriage is the only type of marriage in Ukraine that is legally binding. Couples who have religious or traditional marriages must have conducted a civil marriage before going ahead with other types of marriages.
Christianity is the most popular religion in Ukraine, where about 80% of all Ukrainians are of the Orthodox Church denomination. Marriages are held in the church and performed by an authorized priest. After the processional, the priest says prayers, and the bride and groom exchange vows and rings. Following this, they are officially pronounced husband and wife for the first time in public. This leads to the wedding reception, which can be held as another form of traditional marriage depending on the customs and beliefs of the couples.
Same-sex marriage and polygamy in Ukraine
In Ukraine, marriage between two people of the same sex, male or female, is legal. This bill was passed in 1991; however, such couples may face discrimination that is not faced by opposite-sex couples. Not everyone in the country of Ukraine supports homosexuality, and although same-sex marriages are legal, not all the rights and benefits of marriage are available to couples who fall under this umbrella. Some religious organizations may also not conduct same-sex marriages in their places of worship.
Polygamy is a crime in Ukraine. A man or woman is not allowed to have more than one spouse at a time, and any marriage between multiple people is prohibited and invalid under the laws of the country. This law applies to all marriages held in the country by Ukrainian nationals and foreigners. If a foreigner is allowed to practice polygamy in their home country, the same rule does not exist in Ukraine, and if they wish to marry or live in Ukraine, they must only practice monogamy.
Ukrainian marriage traditions
The country of Ukraine has several marriage traditions that are performed before, during, or after the wedding ceremony. Traditional weddings in Ukraine involve a lot of dancing and singing with various types of food and drinks, and the unique traditions celebrated in the country are stated below.
Ransom
This is a popular marriage tradition in Ukraine that has been passed down from ancient times and is still being practiced now. Here, the groom must go to the bride's house to offer her parents ransom for her. This tradition is also sometimes referred to as "buying the bride." The bride is protected by bridesmaids, who prevent her from being stolen except for the required ransom, which is paid by the groom.
This custom is also performed as a comical act, and the bride's parents often bring out a woman or man with a veil covering their face. After the fake bride is presented, the groom removes the veil from her face, and when he discovers that the person who was presented is not his bride, he will then make a demand for his actual bride. This is where money is then requested from him. The family may set a high ransom, which will have to be negotiated with the groom before he is allowed to go with the bride.
Korovai
This is referred to as the wedding bread, and it is one of the most common wedding traditions in Ukraine. Here, a ceremonial bread is decorated according to the theme of the wedding ceremony, usually with items such as animals or pine cones, and it is presented to the bride and groom as a blessing to them and their new union. The preparations for the korovai are usually held on a Friday or Saturday before the actual wedding day. This tradition is important to the Ukrainian people, and most Ukrainian marriages are not complete without it.
Blahoslovennia
This tradition involves a ritual blessing performed by the parents of the bride and groom. This tradition is held at the house of the bride and groom and usually takes place a short time before the wedding ceremony. The couple's parents are made to sit on benches by the family elder (starosta), where an embroider cloth, rushnyk, is placed in their laps.
After this, the family and friends, as well as other guests, are given a load of bread, and the family repeats a prayer called Bih Sviatyi three times. This prayer requests that Holy God forgive and bless you. The couples are then required to bow to their parents and kiss their faces, feet, and hands as a symbol of forgiveness for sins and the parents' blessing of the marriage.
Rushnyk
This is a popular Ukrainian tradition. The rushnyk is an embroidered king ritual cloth, and this cloth is an important part of Ukrainian marriages because it also has a symbolic meaning. Most times, the embroidered cloth is presented during the engagement ceremony as part of the bride's price. This rite is used to symbolize beauty and happiness in the lives of the newlyweds.
Marriage Laws and Rights, Costs and Duties
Laws and Rights
There are various laws and rights guiding marriage in Ukraine that have been laid out by the country's legislature. A person may not get married if they have not attained the age of 18, except under special circumstances where permission has been given by the parent or guardian in the form of written or in-person consent.
State registration of marriages is certified by the marriage certificate, and any marriages held where the couples did not obtain a marriage certificate are not recognized or protected by law. Couples may cohabitate; however, they do not enjoy the rights and benefits provided to people who are officially married. Persons who have filed for marriage must inform each other of their health status. Each spouse must get a medical examination result prior to the marriage, and serious diseases and illnesses such as mental illness or venereal diseases must not be concealed from one's partner before the marriage.
Persons who have attained the minimum legal age to marry in Ukraine have the right to marry. A marriage can only be valid when there is free consent from both the man and woman. A marriage registered between someone who is already married and a partner is invalid under the laws of the country. Before a person is allowed to enter a new marriage, the previous one must be lawfully terminated, and evidence of this must be provided by both foreign and Ukrainian spouses during the marriage application process. A man and a woman both have the right to be treated fairly and equally in a marriage.
Costs
The cost of marriage registration in the Ukraine is quite low when compared to other countries. Ukraine nationals can expect to spend about $1.5 or even less on their marriage application and registration, while foreign nationals generally spend about $3. However, this fee can go up a bit when the couples want additional premiums, like a fast processing time.
A traditional marriage in Ukraine generally costs $4000-$6000, depending on how much money the couple is willing to spend on the ceremony. This. OST can go higher or become less if the number of guests is affected, and major expenses include catering, transportation, and the cost of renting a venue to be used for the ceremony.
Duties
The first duty of a man and a woman in a marriage is to love and respect one another. Both partners must be faithful to each other at all times, with respect for each other's honor. The man and the woman must love each other unconditionally, as well as the three children in the marriage. The roles of the marriage can be discussed between both spouses as a mutual decision. Equality in marriage is to be ensured, and both partners are responsible for taking care of, supporting, and maintaining each other, their children, and the entire household at large. A spouse who earns more income may have to shoulder more financial responsibilities, depending on what has been agreed upon by the couple beforehand.
In Summary
A lot of the marriages held in Ukraine are religious marriages. However, a civil marriage is the only type that is recognized and protected under the laws of the country. Most couples fix their religious and traditional marriages within a short period of time after the civil marriage is concluded. Families who want to have an additional religious marriage usually start preparations during the marriage application process. Couples must ensure they are up to the minimum legal age to marry in the countdown, and there must be no impediment to marriage.
As stated earlier, civil marriages in Ukraine do not take as long as they do in other countries. The whole application and registration process typically takes less than a month, and couples can even make the process faster by paying some extra fees in cases where they need to obtain their marriage certificate urgently. The country also has a high divorce rate, largely due to a lot of Ukrainians getting married at a young age. When they do this, the relationship or marriage usually fails along the way due to their inability to maintain it. This article is a comprehensive guide for everything you need to know about marriage in Ukraine.
Don't make your lover wait. We're sure it will be «Yes».
Proposal will take a few clicks