Everything you need to know about marriage in Vietnam
15 Mar 2023
·
19 min to read
Articles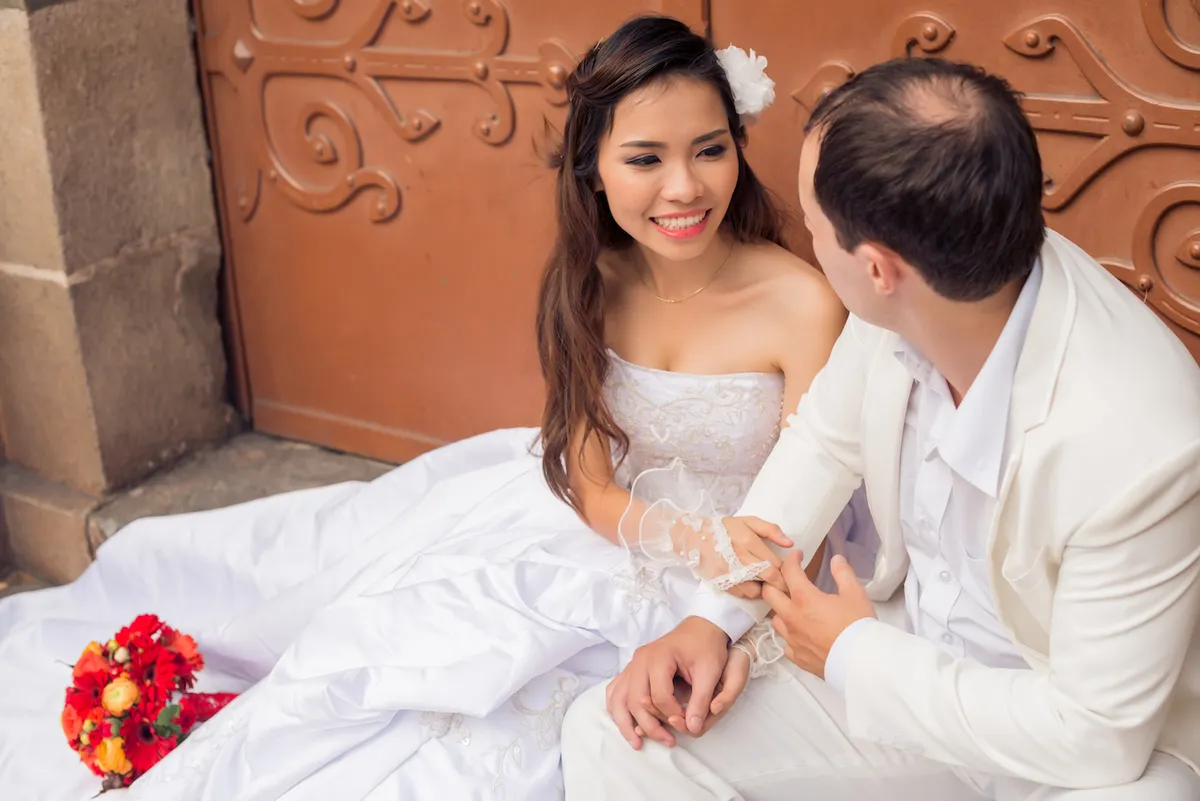 Vietnam is one of the most culturally diverse countries in Southeast Asia. Over 110,000 marriages are held annually in the country, with about 18,000 of them being between a Vietnamese national and a foreigner from another country. Couples in Vietnam mostly perform a civil and religious ceremony as well as traditional rites that are unique to their beliefs, region, or community. Mahayana Buddhism is the most popularly practiced religion in the country. Therefore, most religious and traditional marriages follow their own customs.
Vietnamese people place a high value on marriage, and the traditional Vietnamese wedding is a special day in people's lives. The minimum legal age to get married in the country differs based on the gender of the partners. A woman must be at least 18 years old to get married, while a man must be at least 20 years old to have a lawful marriage in the country. Marriage applications are required to be filed physically by couples. This is done in person at the District People's Committee in the same local area where one lives. For couples where only one of them is Vietnamese, the application may be required to be completed in the local area of the Vietnamese national. As you read on, you will find out more about Vietnamese marriages. Let's get started.
Civil marriage
A civil marriage in Vietnam is the major type of marriage that is legally binding under the laws of the country. Most people in Vietnam usually have a civil marriage first and a religious marriage afterwards. Both are usually performed on the same day. A civil marriage is performed at the local department of justice where the couple lives, and during the marriage registration, the couples have to be present in person, and they must also provide legal witnesses as required by law.
The civil marriage is conducted by a registrar who has been authorized by the state. Only marriages performed by an authorized officiant are valid. To perform a civil marriage in Vietnam, there are certain conditions that must be met by the couple, as well as documents that must be submitted by them. The conditions for getting married in Vietnam are stated below:
Conditions for marriage
Both partners must not currently have a spouse that is recognized under Vietnamese law.
Neither of the partners is allowed to still be in a relationship with another person other than their partner. If such is the case, the marriage must be duly terminated.
The minimum age requirements must be met by both spouses. The man must be at least 20 years old and the woman in the relationship must be at least 18 years old before the marriage can take place.
Both partners must have the legal capacity to get married. The man and woman must be psychologically fit so as to make independent and important decisions in the marriage.
For a marriage to take place in Vietnam, at least one of the partners must be a Vietnamese national.
Both partners must not be related by a degree of consanguinity or affinity. This implies that they must not be related by blood as siblings or close relatives.
Required Documents
During the marriage registration, the couples must be physically present to submit all the required documents and paperwork.
The documents that are required for an in-person submission are stated below:
A certificate of good mental health must be provided by both partners. This certificate must be obtained from one's GP or at any of the international hospitals present in Vietnam.
A certificate of no impediment to marriage. This is paperwork to show there is no issue that may arise to stop one from getting married, such as a mental illness, marriage with someone else, etc. A sworn affidavit of single status may also be provided by both partners.
A divorce or death certificate. Couples must submit whichever applies to them if they were previously married to someone and divorced or if their previous spouse died.

The documents that are required when a spouse is authorized to submit the marriage registration application are stated below:
An application for marriage registration
A certificate of non-impediment to marriage A court-sworn affidavit as evidence of single status may also be provided.
Power of attorney. The form can be downloaded accordingly.
A certificate of good mental health that was issued by one's GP or an international hospital in Vietnam
A copy of the original current passport
A divorce or death certificate. Whoever this applies to must provide this certificate to show they lawfully terminated their previous marriage.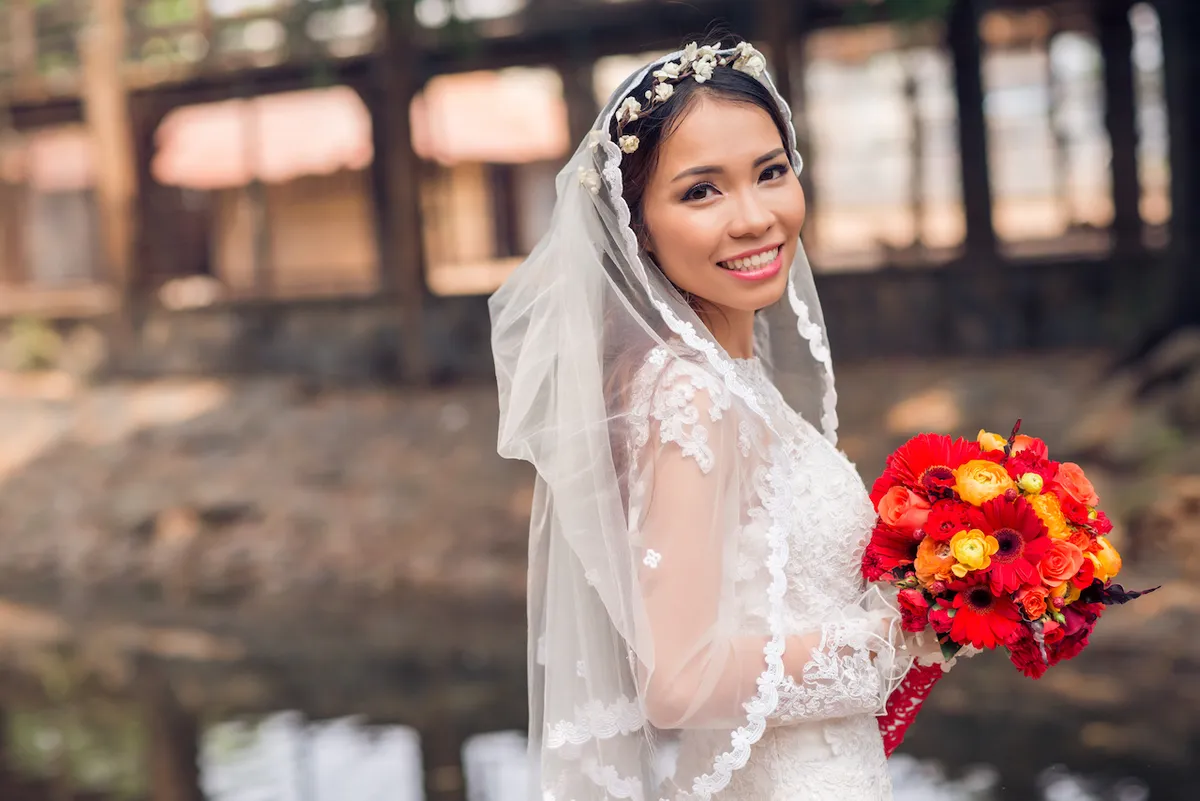 Traditional Vietnamese Wedding
In Vietnam, a traditional wedding ceremony is one of the most important events that will take place in a person's life. The Vietnamese culture of marriage is mostly influenced by Buddhism due to the larger percentage of the population actively practicing the religion. Some of the ancient marriage practices are still being done by couples these days, and a lot of attention is paid to the attire worn by the couple on their wedding day, especially that of the bride.
The bride's outfit is often flashy and extravagant. The bride may or may not wear an outer cloak accessory, depending on whether she wants to show off her beautiful gown. The cloak may be replaced with a cape, and jewelry is not worn by the bride at the beginning of the ceremony. According to tradition, a bride is not supposed to wear any jewelry until later in the ceremony. According to the traditions of the Nguyen Dynasty, the gown of the bride will have many layers of different colors, and some couples may choose to have matching colors and designs with their attires.
The bridesmaids and groomsmen also wear matching attire to fit their respective groups. Based on tradition, the bridesmaids will wear pink or a similar color that contrasts that of the bride. The groomsmen may either wear the same color as the bridesmaids or other popular color options like black or blue. The attendees may dress according to their preferences, and some often decide to wear the traditional Ao Dai. Most attendees often wear traditional Vietnamese attire during the beginning of the wedding ceremony. This is typically during the religious ceremony that is held in the couple's place of worship. Then during the reception, the attendees may switch into western clothes. The traditional Vietnamese garment is called the Ao Dai.
Religious marriage
The most dominant religion in Vietnam is Buddhism. The number of Catholic Christians is also quite significant in the country, and most of these marriage ceremonies follow the practices of both religions. Most weddings celebrated according to Buddhism or Christianity have a second ceremony (reception) where the couple is celebrated with music, well-wishes, and feasting. However, a major difference between both types of marriage is that Buddhism involves ancestor worship that is performed at the house of the married couple, whereas Christianity does not condone such an act.
Before traditional marriage rites are performed, a religious marriage must be conducted so as for the union to be recognized and protected by the country's laws. Nowadays, couples adopt several marriage traditions from the western world in combination with those of Vietnam. Both western and traditional (Ao Dai) wedding garments are used during the wedding ceremony. Christian marriages are conducted in the church by an authorized clergyman. During the ceremony, the bride and groom exchange vows and rings and are then pronounced husband and wife by the officiating priest. After the religious ceremony is concluded, the newlyweds, their families, friends, and other guests all proceed to another venue where the wedding reception will be held.
Marriage traditions in Vietnam
Vietnam has some marriage traditions that have been practiced since ancient times and are still widely practiced by modern couples. Some of the most popular marriage practices in Vietnam are listed below.
Dam Hoi
This tradition is a pre-wedding ceremonial rite known as the engagement ceremony. Here, the groom's family leads a procession to the bride's house, where they offer multiple gift items to the parents of the bride and ask for her hand in marriage. These gifts are stored in a Mam Qua and packaged for the bride's family in an even number. Odd numbers are believed to be inauspicious, and if the bride's family accepts the gifts and the proposal, she will be married. The bridegroom and his family then begin planning the wedding.
Ao Dai
The Ao Dai refers to the traditional Vietnamese wedding garment. It is worn by the bride and groom during the wedding ceremony. It is customary for the couple to wear a Khan Dong (headdress) along with their complete Ao Dai outfit. The dress can be worn throughout the marriage ceremony and reception. However, some couples may decide to change their outfits after the traditional ceremony.
Le Cuoi
This is the actual wedding ceremony and reception. On the wedding day, more gifts wrapped in red paper are presented to the bride's family. A tea ceremony is often organized after the traditional ceremony is concluded. Here, the bride shows off her beautiful white dress while the groom is dressed in a suit. The reception is celebrated with loud music and dancing by the couples and various guests. The guests present gift items to them and say prayers. There is always a lot of gaming, toasts, cake, and feasting.
Same-sex marriage and polygamy
Marriage between two people of the same sex is not legally binding in Vietnam. Other forms of relationships, such as unregistered cohabitations and civil unions, are not recognized or protected by law. There is no strict penalty involved in this type of marriage; however, the couples will not get to enjoy the rights, benefits, and responsibilities of opposite-sex marriages in the country.
Polygamy is illegal in Vietnam. A man or woman is not allowed to have more than one spouse at a time, regardless of their religion or cultural beliefs. All lawful marriages in Vietnam must be monogamous. This includes those held between two Vietnamese or a Vietnamese and a foreigner.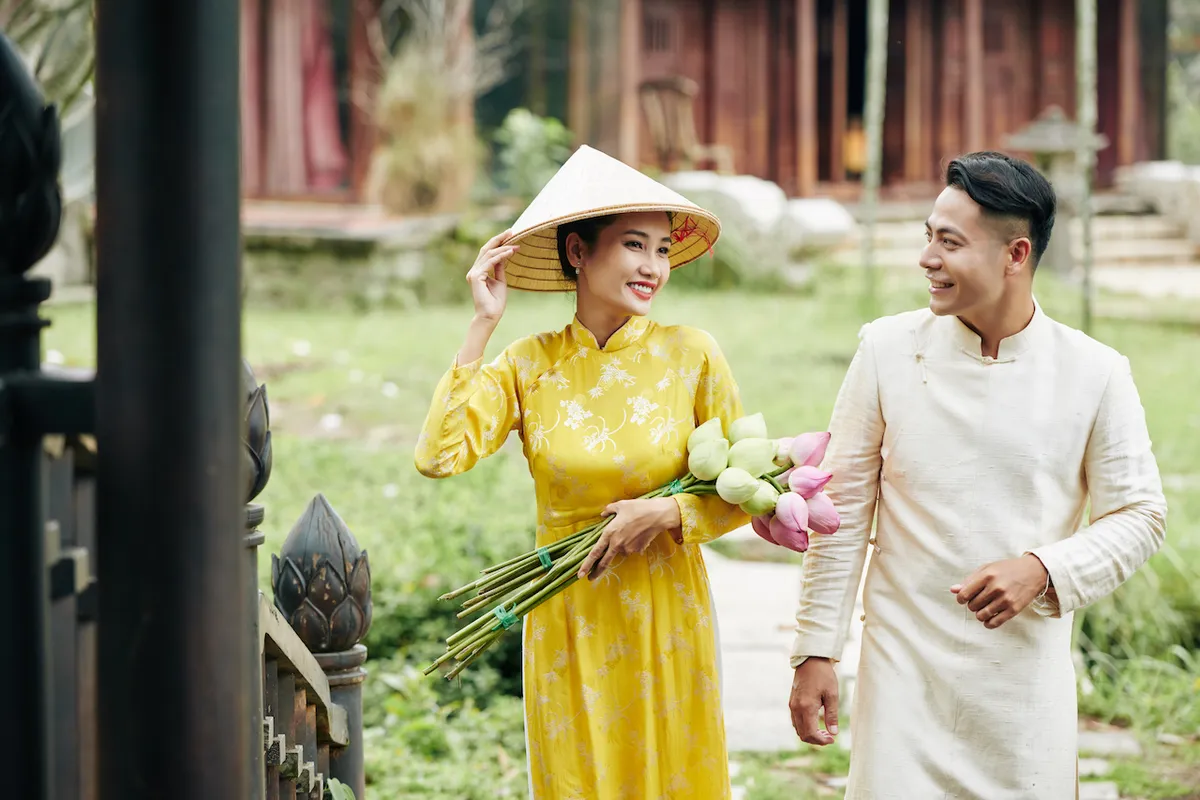 Marriage Laws and Rights, Costs and Duties
Laws and Rights
According to the laws of Vietnam, a marriage must be voluntary and monogamous. There must be no form of coercion against a person, such as threats, violence, etc. A person must give their own free-will consent before the marriage is permitted to take place. Also, the country has strict laws about monogamy. Monogamy is the only type of relationship accepted in Vietnam. A man or woman is not allowed to have multiple sexual partners or be in a marriage with more than one person at a time.
A Vietnamese marriage may be held between two people who are nationals and foreigners, religious and non-religious, as well as two people who have different beliefs.
A marriage between two spouses who are related by a direct link, such as siblings and other close relatives, is not legal or valid under the law. Sham marriages are illegal in the country. Two people may not get married just for the purpose of obtaining residence or naturalization in Vietnam. The legal age to get married in Vietnam is 20 years for men and 18 years for women. Marriages between minors are illegal throughout the country.
In Vietnam, a woman shares the same rights as her husband. She has the right to work, earn a living, and also invest in properties. Both partners have the right to freedom and religion. They are allowed to practice any religion of their choice as long as it is recognized under the law as legal. A man and woman have the right to choose who their spouse will be, provided that they are in a relationship with only one person at a time. A woman has the right to be free from abuse and oppression. A person can file for divorce if they are not being treated right in a marriage, such as through domestic violence, infidelity, etc.
Costs
The average cost of marriage registration in Vietnam is VND 1 million. This includes all the fees that are required during the registration application process, and they must be paid by the couple after the marriage license receipt is given to them. The cost of a traditional wedding ceremony may go up to VND 150 million or more.
Once pre- and post-wedding expenses come into play, the cost of the ceremony often gets high. Some of the expenses couples and their families may have to pay for include the bride price, gift items presented during the proposal and engagement phase, as well as the cost of rings, catering, decorations, photography, transportation, etc. The amount of money couples chooses to spend on the traditional wedding ceremony is dependent on them and their preferences. Because each guest's meal costs an average of $24, a wedding ceremony with fewer guests may significantly reduce the cost of the ceremony.
Duties
The couple owes it to one another to be faithful, loving, and caring. Husband and wife are supposed to share equal rights and duties in respect to all matters affecting the entire family. A man is supposed to provide conditions and an environment that make it easy for his wife to carry out her duties. They are both supposed to work together to care for the family and provide the required needs for each other, their children, and the entire household at large.
The husband and wife have a duty as parents to care for and bring up their children according to their lawful beliefs. They must ensure the healthy development of the child in all major aspects of his or her life, intellectually, physically, mentally, and emotionally. The parents have an obligation to pay for any damage done by their child under the age of 16. Also, the man and wife are obligated to come to a mutual agreement on the responsibilities and payment of bills and maintenance in the family.
In Summary
Vietnam has a very rich and diverse culture, and ceremonial rites for marriage are practiced in multiple ways based on the beliefs of the couples and their families. A lot of the customs and traditions of modern-day Vietnam are an amalgamation of western marriage traditions and native Vietnamese traditions. The minimum legal age for a man to get married is 20 years, while that of a girl is 18 years. Marriages that are not held in accordance with this law are rendered invalid.
For civil marriages, the ceremony can only be performed between two Vietnamese nationals or one Vietnamese and a foreigner. The only way two foreigners can get married and be recognized and protected under the legal laws of Vietnam is if they have valid residence in the country. This can be either temporary or permanent. All marriage procedures and documents must be submitted during the marriage registration application, and a marriage license must be obtained for the marriage to be legally binding. Everything that you have read includes all you need to know about marriage in Vietnam.
Don't make your lover wait. We're sure it will be «Yes».
Proposal will take a few clicks